About Legacy Partners Insurance & Financial Services, Inc.
Legacy Partners is a full service financial planning firm, that provides insurance and financial protection for individuals, families, businesses, business owners and their employees.
COMPANY GROWTH:
Legacy Partners Insurance & Financial Services Inc. has grown in financial strength and reputation by providing life and health insurance coverage to thousands of families across the State of California.
The secret behind the success has always been company's partnership with highest rated carriers who have at least 100 year history behind them.
Our stringent code of ethics places the client's needs above all others and demands uncompromising integrity in every aspect of our business conduct. We design programs to help you achieve financial security in a complex and constantly changing world.
OUR MISSION:
Legacy Partner's mission is to provide thorough audit of prospective client's present financial situation, understand what clients' objectives are for themselves, their families or their business, then design a program specifically for them so clients can achieve financial security in this complex and constantly changing world. This is what makes us a growing leader in the insurance industry.
OUR GOAL:
Our goal is to help you achieve your financial objective. We pledge our knowledge, resources and dedication to integrity in all we do.
MEET OUR CEO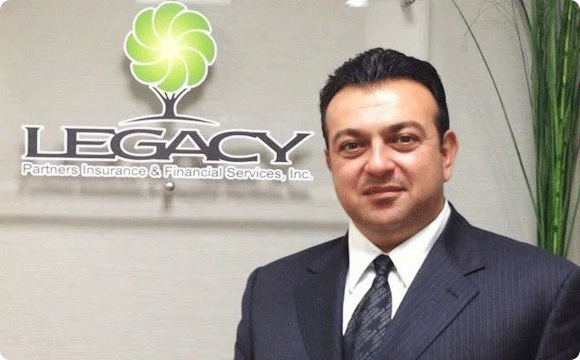 Paul Arakelyan, has been hosting weekly Live TV Shows named "Insurance Forum" through local media over the past 14 years. He has branded his name so that when people hear Arakelyan they associate it with life insurance agency. Over the years, Legacy Partners have insured thousands of individuals and sold millions of dollars of insurance and other financial products due to high professionalism, honesty and integrity.
HISTORY:
Paul Arakelyan has worked with highly rated carriers. Arakelyan was Regional Vice president for North Coast Life Insurance Company for California, headquartered at Spokane, Washington. He has been working with Kansas City Life Insurance Company, Mass Mutual Life, New England Financial/Met Life, Mutual of Omaha, Transamerica, Guardian Life Insurance Company, Blue Shield/Blue Cross of California, Anthem, Cigna and many others. He is a General Agent for Kansas City Life Insurance Company for California.
In the past 20 years Paul Arakelyan conducted business with the following names and is known in the community as:
Arakelyan & Associates Insurance & Financial Services Inc. (517 E Wilson Ave, Glendale CA 91206) California General Insurance & Financial Services Inc (220 S Kenwood St. Unit 100, Glendale CA 91202) Legacy Partners Insurance & Financial Services Inc. (currently at 1101 N Pacific Ave Unit 303, Glendale CA 91202)
Community Work
Over the years Paul Arakelyan has supported many local for-profit and non-profit organizations, political figures, veterans, etc. He was a Board of Director for Red Cross (Glendale CA Division) and Komitas International School of Music (non-profit organization). He made donations to hospitals in US and in Armenia. He helped many veterans to cope with their wounds from war of Nagorno-Karabakh, Region in Armenia. He has helped many singers, musicians, writers by sponsoring concerts, albums and books, due to his love and passion for music and art.